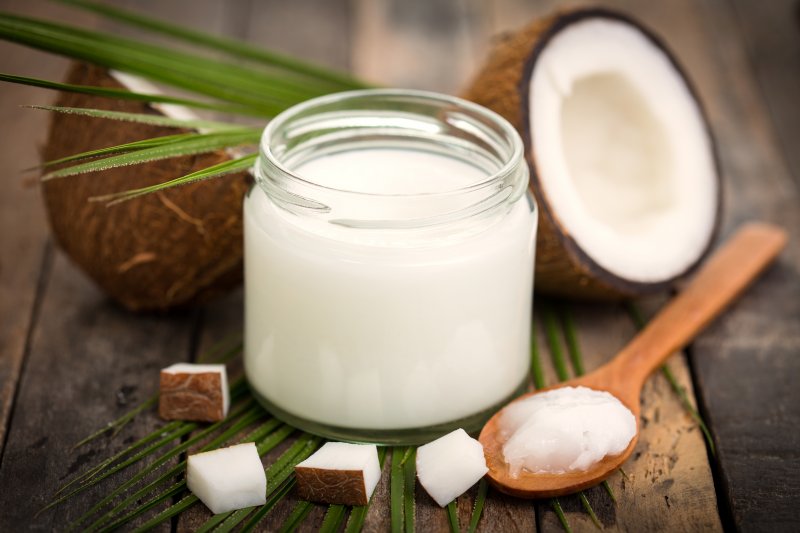 Have you noticed blood on your toothbrush or floss? This could be a sign of gingivitis. If left untreated, it could lead to a much more serious condition called periodontitis. This is a severe gum infection that can lead to tooth loss and other complications. Fortunately, when gingivitis is caught early, there are things you can do to eliminate it. Read on to learn about some home remedies from your dentist in Springfield that are effective at reducing inflammation in the mouth.
Saltwater
Because it's a natural disinfectant, using a saltwater rinse can benefit those who have inflamed gums due to gingivitis. It helps to ease pain, sooth your gums, reduce bacteria, and relieve bad breath. Simply add ½ – ¾ teaspoon of salt to warm water and mix well. You should swish it around your mouth for about 30 seconds. You can do this as many as three times a day.
Oil Pulling
To do an oil pull, you should put 1-2 teaspoons of coconut or arimedadi oil into your mouth and swish it around for 20-30 minutes without allowing it to touch the back of your throat. You then spit it out, rinse your mouth, and drink a full glass of water. Brush your teeth afterwards. Both arimedadi and coconut oil have been shown to reduce plaque growth and lessen the symptoms of gingivitis.
Cloves
Applying cloves topically has the potential to prevent plaque and reduce inflammation because of its antiviral and antioxidant properties. To do this, mince about 1 teaspoon of cloves. Apply this to a damp cotton ball. Gently rub it onto your gums and let it sit for about a minute. Rinse your mouth with water afterwards.
Turmeric Gel
Turmeric is antimicrobial, anti-fungal, and has anti-inflammatory properties. Turmeric gel can be bought over the counter. To use, brush your teeth, rinse thoroughly, and apply the gel to your gums. Allow it to sit for 10 minutes before rinsing with water. Do this twice a day.
Homemade Mouthwash
There are several different rinses that have been shown to relieve the symptoms of gingivitis. Here are a few of them:
Lemongrass Oil
Dilute 3 drops of lemongrass essential oil into a cup of water and swish it around your mouth for 30 seconds up to three times per day to reduce plaque and gingivitis levels.
Tea Tree Oil
Add 3 drops of tea tree oil into a cup of warm water. Swish it in your mouth for 30 seconds up to three times per day. Using this rinse is known to help reduce bleeding that is due to gingivitis.
Aloe Vera
Swish 100% aloe juice around your mouth for 30 seconds up to three times per day. This is effective at reducing plaque and gingivitis.
Guava Leaf
Guava leaves have been used a long time to manage oral hygiene. In order to reduce gum inflammation, relieve pain, control plaque, and freshen your breath, crush five to six tender guava leaves with a mortar and pestle. Add them to 1 cup of boiling water and allow it to simmer for about 15 minutes. Once cooled, add a small amount of salt and swish it around your mouth for up to 30 seconds. Repeat this up to three times per day.
Sage
Add 2 teaspoons of fresh sage or 1 teaspoon of dried sage to a cup of water. Let this simmer for 5-10 minutes. Rinse up to three times per day. Doing so can lower the number of bacteria in your mouth and help to heal swollen gums.
In addition to practicing good oral care and visiting your dentist regularly, trying some of these remedies could prove effective against gingivitis.
About the Author
Dr. Eric L Tolliver provides dental care in his hometown of Springfield, MO. He earned his Doctor of Dental Surgery from the University of Missouri–Kansas City and completed a residency program for Advanced Education in General Dentistry. He's also a member of several professional organizations including the American Dental Association and the Greater Springfield Dental Society. For more information or to schedule an appointment, visit his website or call (417) 887-5757.